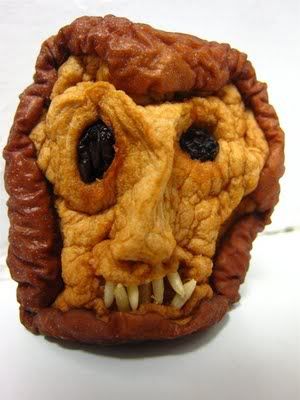 Shrunken Apple Heads
Shrunken apple heads are great fun to make with the kids for a halloween party.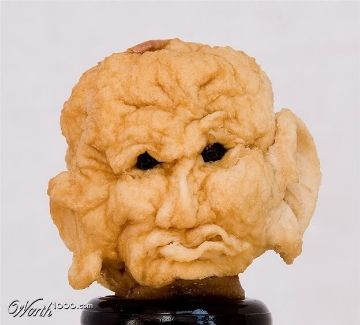 These shrunken heads are made from peeled, carved, and dried apples. They are as spooky as the scariest Halloween masks, and just as much fun to create. You can transform a Granny Smith apple into a truly frightening fruit. Although any variety of apple will work, Granny Smiths are ideal because of their round shape and texture.
Tools and Materials

Firm, unbruised apples, preferably Granny Smiths
Knife
Marker or pencil
1 cup lemon juice
1 tablespoon salt
Stick or branch
Shrunken Apple Head How-To

1. Peel and core the apple.

2. Using a pencil or marker, draw facial features, including eyes, a nose, and a mouth, on the apple; be sure to draw the features large enough so they won't vanish when the apple shrinks.

3. Using the outlines as your guide, carve the apple to resemble a skull.

4. Combine lemon juice and salt in bowl. Soak the apple for 30 seconds. Pat dry.

5. Set the apple in a warm, dry spot; after several days, the apple will shrink, and the features will distort.

6. Insert a stick or branch into the bottom of the head and place it in a vase.

Step 1. Peel and core a firm, unbruised apple. Cut guidelines for face.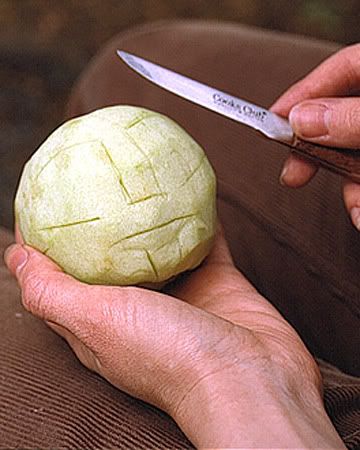 Step 2. Carve large features (small ones vanish when shrunken). Soak head for 30 seconds in 1 cup lemon juice and 1 tablespoon salt, to prevent browning; set aside. Repeat for as many heads as you'd like.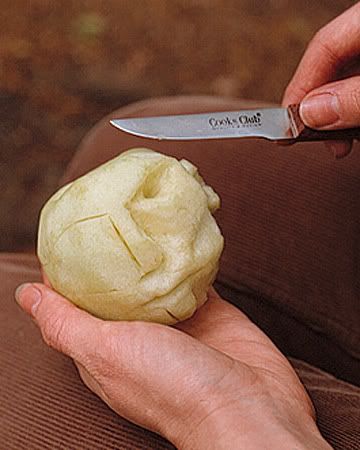 Step 3. String heads on a knotted cord: Insert toothpicks in knots; rest heads on them. In a few days, the apples will shrivel up, and even the most serene faces will turn downright crabby.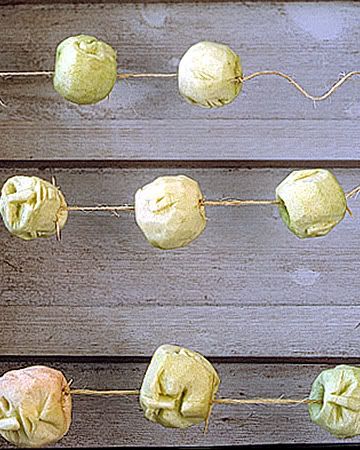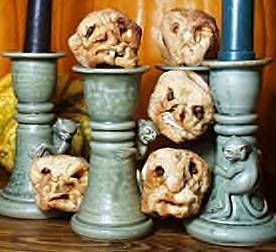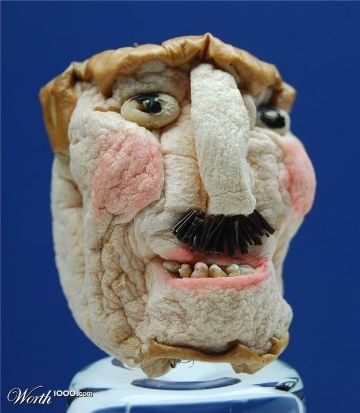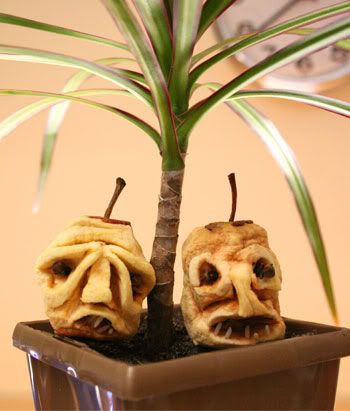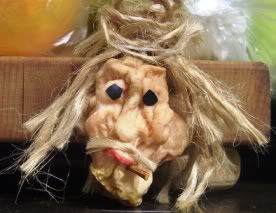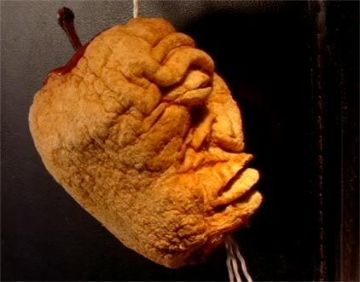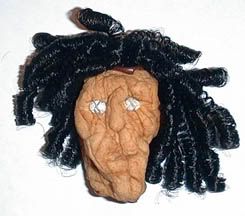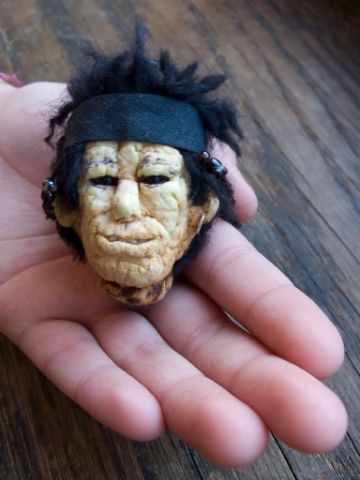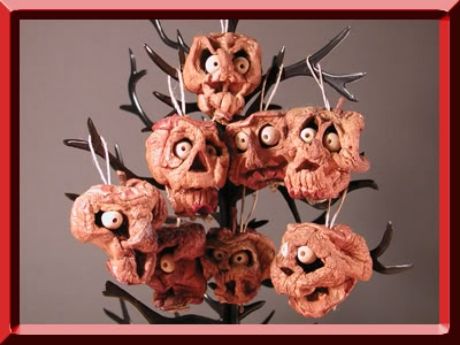 Shrunken Heads in Cider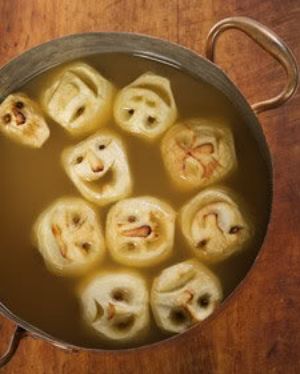 Ingredients

Serves about 30

* 2 cups lemon juice

* 2 tablespoons coarse salt

* 8 large Granny Smith apples

* 32 whole cloves

* 2 gallons apple cider

*2 x 12-ounce cans frozen lemonade concentrate, thawed

* 2 cups spiced rum (optional)
Directions

1. Preheat oven to 250 degrees. Line a baking sheet with parchment paper; set aside.

2. In a medium bowl, mix together lemon juice and salt; set aside.

3. Peel apples and cut each in half through the stem; remove seeds and core. Using a sharp paring knife, carve a face, as desired, on the rounded side of each apple half. Place apples in lemon mixture for one minute; transfer to paper towels to drain.

4. Place apples, face-side up on prepared baking sheet and transfer to oven. Let bake until apples are dry and begin to brown around the edges, about 90 minutes.

5. Remove apples from baking sheets and press cloves into the "eye" sockets. 6. Combine cider, lemonade, and rum (if using) in a large punchbowl; float shrunken heads on top.
Have fun!