The Mad Cowboy - Howard Lyman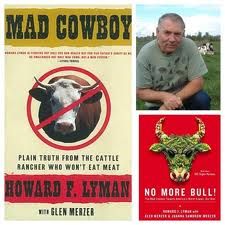 Mad Cowboy - Full Documentary

I am a fourth-generation dairy farmer and cattle rancher. I grew up on a dairy farm in Montana, and I ran a feedlot operation there for twenty years. I know firsthand how cattle are raised and how meat is produced in this country.

Today I am president of Earth Save International, an organization promoting organic farming and the vegetarian diet.

Sure, I used to enjoy my steaks as much as the next guy. But if you knew what I know about what goes into them and what they can to do you, you'd probably be a vegetarian like me. And, believe it or not, as a pure vegetarian now who consumes no animal products at all, I can tell you these days I enjoy eating more than ever.

If youre a meat-eater in America, you have a right to know that you have something in common with most of the cows you've eaten. They've eaten meat, too.

When a cow is slaughtered, about half of it by weight is not eaten by humans: the intestines and their contents, the head, hooves, and horns, as well as bones and blood. These are dumped into giant grinders at rendering plants, as are the entire bodies of cows and other farm animals known to be diseased. Rendering is a $2.4 billion-a-year industry, processing forty billion pounds of dead animals a year. There is simply no such thing in America as an animal too ravaged by disease, too cancerous, or too putrid to be welcomed by the all-embracing arms of the renderer.

Another staple of the renderers diet, in addition to farm animals, is euthanized pets - the six or seven million dogs and cats that are killed in animal shelters every year. The city of Los Angeles alone, for example, sends some two hundred tons of euthanized cats and dogs to a rendering plant every month.

Added to the blend are the euthanized catch of animal control agencies, and road kill. (Road kill is not collected daily, and in the summer, the better road kill collection crews can generally smell it before they can see it.) When this gruesome mix is ground and steam-cooked, the lighter, fatty material floating to the top gets refined for use in such products as cosmetics, lubricants, soaps, candles, and waxes. The heavier protein material is dried and pulverized into a brown powder-about a quarter of which consists of fecal material. The power is used as an additive to almost all pet food as well as to livestock feed. Farmers call it protein concentrates. In 1995, five million tons of processed slaughterhouse leftovers were sold for animal feed in the United States. I used to feed tons of the stuff to my own livestock. It never concerned me that I was feeding cattle to cattle.
Talk by Howard Lyman author of "Mad Cowboy: Plain Truth from the Cattle Rancher Who Won't Eat Meat" given January 22, 2010 at William H. Gates Hall, University of Washington, Seattle, WA as part of the conference "Crisis at the Crossroads: Animals, the Environment and the Law" sponsored by the University of Washington Student Animal Legal Defense Fund (SALDF).
Is there such a thing as Humane Meat and can we change the world as activists? Howard Lyman explains it in this video
Peaceable Kingdom
I was raised on a small farm in Montana in the 1940s, during World War ll. We were poor but I had no understanding of what that meant. We had enough to eat and a large loving family, so the world looked great to me.
Living on a farm I was surrounded by many animals. My dog was always at my side, and I'm sure he spoke our language. The cows and horses all had names, and each one was a special critter.
I learned that a cow could pick her calf out of hundreds of other calves, and she never made a mistake. Our workhorses responded to verbal commands, so there was no doubt they understood our words, but we had trouble with theirs.
It was also a time when you never questioned the need for animal products in your diet. Milk was nature's most perfect food, and this was agreed to by all, without thought or comment.
After high school I decided to attend Montana State University to learn the new modern methods of farming. I became exposed to better living through the use of chemicals. I never met a chemical I didn't like. Armed with a degree in agriculture, I went home to build a large agribusiness.
I look back today with regret at how I became part of the profit-driven industry instead of an understanding animal among other animals. It took me years to understand that we are just a part of the universe, and not the most important part of it.
My life experience has given me a better understanding of what is happening, and what a mistake it is to believe there is anything called "humane" slaughter. Animals have families and feelings, and to think that kindness before killing them is an answer is totally wrong. Humans have no need for animal products. And when we consume animal products, we're not just killing the animals. In the long run, we're killing the planet, and ourselves.
I'm sure that it will take many years before the majority of humans learn as I have that actions, and not words, are the true proof of our understanding of the term humane. Living my life as I do now, as a total vegan, gives me great joy in knowing that no animal has to die for me to live.
Howard Lyman
See also:
The Humane Myth.org
The Mad Cowboy.com
Peaceable Kingdom
Howard Lyman Talks Ranching, McLibel and McDonald's
Howard Lyman Books
Animal Rights Links
Vegan Recipe & Cooking Links
Herbal & Garden Links
Martha Magenta's Poetry Links
General Topic Links