More Delicious Autumn Pumpkin Recipes
Pumpkin Pasta With Easy Alfredo Sauce
By Vegan Dad
Ingredients

1 lb pumpkin pasta (see recipe below)
- 3 cloves garlic, skins on
- 3 tbsp margarine
- 2 generous tbsp flour
- 1 tsp sage
- 1/4 tsp thyme
- pinch of nutmeg
- 1 tsp salt
- 2 cups soy milk
- 1 cup firm silken tofu

Instructions

1. Cook pasta in rapidly boiling salted water for about 60 seconds, until soft but still firm.
2. While water is heating, make sauce. Dry roast garlic in a pan until soft. Remove from heat, remove skins, and chop.
3. Heat margarine in a saucepan over medium heat. Whisk in flour and bring to bubbling. Add garlic and spices and mix, then whisk in soy milk. Bring to bubbling, whisking regularly.
4. Add tofu and blend with a hand blender. Adjust seasonings to taste. Mix with cooked pasta and serve.

Fresh Pumpkin Pasta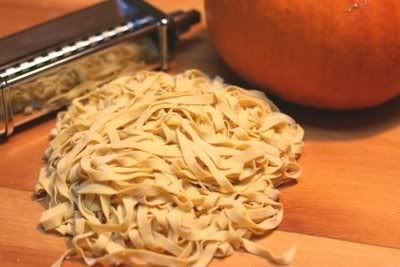 Ingredients

Makes 1 lb of pasta

-1 cup semolina flour
- 1 cup all purpose flour
- 1/2 tsp sea salt
- 1/2 cup pureed cooked pumpkin
- 1-2 tbsp water

Method

1. Mix together flours and salt in a bowl. Make a well in the center. Put pumpkin and 1 tbsp of the water in the center. Slowly incorporate the wet into the dry, making a rough dough, adding more water if needed.
2. Turn out dough onto a lightly floured surface and knead into a smooth dough (5 mins). It's going to take some elbow grease. The dough should not break apart or crack, so wet your hands if the dough seems too dry.
3. Roll into a log and wrap in a damp towel. Set aside for 20 mins to let the dough relax. Roll and cut as per usual.

A Note on Cooking Fresh Pasta:
Fresh homemade pasta does not need to cook very long--1-3 mins, usually, depending on the thickness. Monitor the pasta closely and make sure you don't overcook it, otherwise it will be mushy.

Enjoy!
Pumpkin Pie Brownie
By Vegan Cupcakes Takes Over The World.


Note: A 15 or 16 ounce can of pumpkin will equal the 2 cups of pumpkin needed for this recipe.
Ingredients:
For the brownie layer
4 ounce bittersweet chocolate, melted
1 cup canned or pureed pumpkin
3/4 cup sugar
1/4 cup vegetable oil
1 teaspoon vanilla extract
3/4 cup flour
1/4 cup dutch processed cocoa powder
1 tablespoon tapioca flour (or arrowroot or corn starch)
1/4 teaspoon baking soda
1/4 teaspoon salt
For the pumpkin pie layer
1 cup canned or pureed pumpkin
2 tablespoons tapioca flour (or use arrowroot or cornstarch)
1/2 cup non-dairy milk (I used soy)
1/3 cup sugar
1 teaspoon vanilla extract
1/4 teaspoon ground ginger
1/4 teaspoon ground cinnamon
pinch ground nutmeg
pinch ground allspice
To decorate:
A handful of chocolate chips.
Directions:
Preheat oven to 350 F. Grease a 9 inch springform pan, or use a 9 inch square pan, preferably lined with parchment paper.
To make the brownie layer:
Melt the chocolate
In a large mixing bowl mix together pumpkin, sugar, oil and vanilla. Sift in the flour, cocoa powder, tapioca, baking soda and salt and stir to combine, then mix in the melted chocolate.
To make the pumpkin layer:
Mix all ingredients in a large mixing bowl and stir until thoroughly combined.
To assemble:
Use a spatula to spread the brownie layer into the prepared baking pan, taking care to bring the batter to the edges of the pan. Pour the pumpkin layer over it, leaving a little room at the edges if you can. Bake for 30 minutes, until the pumpkin layer looks fairly firm (a little jiggling is okay) and has cracked at the edges a bit.
Let cool for 20 minutes and then transfer to the fridge to set for at least an hour and a half. Once set, decorate with chocolate chips and serve.
Enjoy!
From Caroline's Garden of Vegan.
Animal Rights Links
Vegan Recipe & Cooking Links
Herbal & Garden Links
Martha Magenta's Poetry Links
General Topic Links